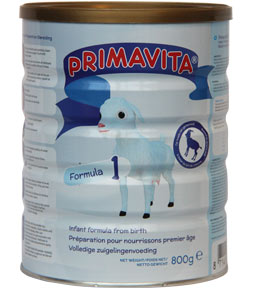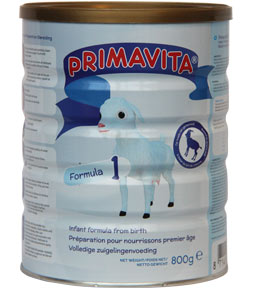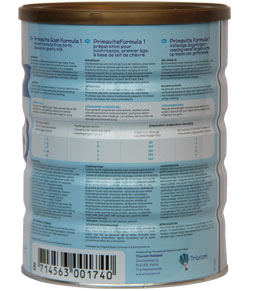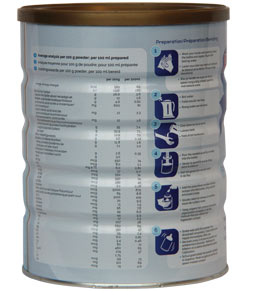 Order
Temporarily not in stock
Shipping within 7 business days
This Primavita infant's goat milk formula 1 can be used from birth on. Breast milk is considered to be the natural choice for feeding babies. If a mother is not able to breast-feed, by lack of breast milk or other circumstances, Primavita infant's goat milk formula1 can be used from birth on, as a well suited substitute. Primavita infant's goat milk formula 1 is a complete infant food which is based on goat's milk. The product complies with the international standards and recommendations. These are laid down by the WHO and EC.
Ingredients list: Lactose, vegetable oils (palm, soy, coconut), full cream goat's milkpowder, goat's whey protein concentrate (milk), skimmed goat's milkpowder, minerals (tri calcium citrate, tri potassium citrate, tri calcium phosphate, sodium chloride, potassium chloride, magnesium oxide, iron lactate, zinc oxide, copper sulphate, zinc sulphate, manganese gluconate, potassium iodide, sodium selenate), fructo-oligosaccharide, glucose syrup solids, choline bitartrate, vitamins (L- ascorbic acid, sodium ascorbate, dl-alphatocopheryl acetate, nicotinamide, calcium-D- pantothenate, retinyl acetate, thiamin hydrochloride, ribofl avin, pyridoxine hydrochloride, phytomenadione, folic acid, biotin, cholecalciferol, cyanocobalamine), DHA rich fi sh oil, arachidonic acid rich oil, inositol, taurine, nucleotides (CMP, UMP, AMP, GMP, IMP), L-carnitine tartrate, Bifi dobacterium animalis Allergens: contains milk, lactose, fish
FEEDING TABLE:
To ensure the health of your baby, please follow the directions for use carefully, unless your doctor describes otherwise. Scoop size is approx. 4.5 g.
baby age
feedings
preparation
(weeks)
per 24 hrs
water
flat scoops
(ml)
of powder
1 - 2
7
90
3
3 - 4
6
120
4
5 - 8
5
150
5
9 - 16
5
180
6
> 17
5
210
7