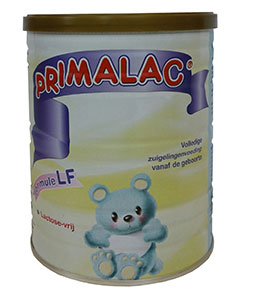 Order
Temporarily not in stock
Shipping within 7 business days
This formula is free of lactose. It is a complete infant formula that can be used from birth on. It should only be used after a consultation with a doctor.
PRIMALAC LF
infant formula from birth on, lactose free
IMPORTANT: Breast feeding is most approp­riate for your ba­by. If you cannot breastfeed your baby, PRIMALAC LF can be used from birth on as a complete substitute. PRIMALAC LF is a special infant formula, which meets the nutritional needs of infants and young children suffering lactose intolerance. It is free of lactose. It should be used only after consultation of a doctor. From 6 months on a gradually increasing varied diet is normally advised. The product contains Arachidonic Acid, DHA, nucleotides, prebiotics and probiotics.
WARNING: unboiled water, unboiled bottles or incorrect dilution can make your baby ill.
Only use freshly prepared feeding. Never use left-overs from previous feedings.
INGREDIENTS:
Glucose syrup solids, Vegetable oils (Soy oil, Palm oil, Coconut oil, Sunflower oil), Low lactose WPI (milk), Caseinate (milk), Minerals (Tri calcium phosphate, Tri potassium citrate, Magnesium chloride, Dipotassium phospate, Potassium chloride, Tri sodium citrate, Sodium chloride, Calcium chloride, Calcium carbonate, Zinc sulphate, Ferrous sulphate, Manganese sulphate, Copper sulphate, Potassium iodide, Sodium selenite), Milk protein, FOS, Choline bitartrate, L-Cystine, Vitamins (Ascorbic acid, DL-alpha tocopheryl acetate, Nicotinamide, D-calcium pantothenate, Riboflavin, Thiamine hydrochloride, Retinyl acetate, Pyridoxine hydrochloride, Folic acid, Phytomenadione, Biotin, Cholecalciferol, Cobalamine), AA-Oil, Marine oil containing DHA (fish), Meso-inositol, Taurine, Nucleotides (Cytidin-5-monophosphoric acid, Uridin-5-monophosphate di sodium salt, Adenosin-5-monophosphoric acid, Guanosin-5-monophosphate di sodium salt, Inosin-5-monophosphate di sodium salt), L-carnitine, Bifidobacterium animalis, Lecithin (soy).
Allergens: contains milk protein, fish oil, soya.
FEEDING TABLE:
To ensure the health of your baby, please follow the directi­ons for use carefully, unless your doctor describes otherwise. Scoop size is approx. 4.5 g.
baby age
feedings
preparation
(weeks)
per 24 hrs
water
flat scoops
(ml)
of powder
1 - 2
7
90
3
3 - 4
6
120
4
5 - 8
5
150
5
9 - 16
5
180
6
> 17
5
210
7