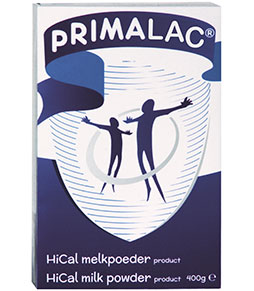 Order
in stock
Shipping within 7 business days
Primalac HiCal milkpowder is a milkpowder product for people who need a high protein nutrition. It is characterized by high protein level and nearly no fat, so the engery value is low.
The product contains a mixture of oligofructose and inuline. These ingredients may promote the growth of a healthy flora in the gut, such as Bifidobacterium.
The product contains a high level of calcium, which contributes to bone health. A high level of iron and a high level of folic acid are characterristic for this Primalac HiCal formula.
Ingredients Primalac HiCal milk powder product
Ingredients Skimmed milk powder, inuline, oligofructose, Vitamins (ascorbic acid, choline, niacine amide, d-l-alphatocopheryl- acetate, calcium-pantothenate, retinyl acetate, thiamine mononitrate, riboflavine, pyridoxinhydrochloride, folic acid, phytomenadione, cholecalcipherol, biotin, cobalamine), Minerals (calcium carbonate, calcium citrate, magnesium sulfate, ferrous sulfate, zinc sulfate, copper sulfate, manganese sulfate, potassium iodine), vanilla flavour, B.Bifidum.
Allergenes: contains milk